This article is going to introduce the top appointment booking and management plugins for WordPress. Chances are you've scheduled an appointment online -- maybe a doctor's visit, or a yoga class? Perhaps you work with a consultant and need to schedule and pay for phone calls through their system? The standalone systems that allow you to do this are extremely burdensome, costly, and don't integrate well with your existing website.
If you're a business owner looking to digitize and automate your appointment bookings online, there are several well designed WordPress booking plugins that will definitely meet your needs as a business owner looking to incorporate this functionality into your digital presence.
What's In An Appointment Booking Plugin?
The best appointment booking plugins are paid solutions. That's because they offer tons of features and support large development teams that consistently make them better with new version releases.
Every business has their own requirements, but typically they are looking to automate their appointment booking process. Instead of having to go through several phone calls, collect billing information, send follow ups and confirmations, with an appointment booking system you can 100% automate this process. Everything from your customer scheduling two paying to receiving notification and followups is automated saving you a lot of time.
Instead of the constant back and forth, you can simply direct your customer too your appointment booking page on your WordPress website.
The main features that most appointment booking plugins for WordPress offer are as follows:
customers can book appointments/services for a specific time slot
customers can pay for these appointments online
customers can manage their appointments
administrators can add appointments manually
administrators can view all upcoming appointments
administrators can manage everything related to their business calendar from the appointment plug in
normally, you can add multiple agents and business locations
appointment plugins synchronize with third party services such as Google Calendar, and payment integrations like PayPal, stripe, and others.
Most of these features are paid. However, if you're looking for free solutions, they're on this list as well!
As somebody adding this feature to their WordPress website, you want it to integrate perfectly. You also need to be able to customize the design of the plugin to match your current website and company branding.
Having the ability to add custom fields allows you to collect all the information you need on an upcoming appointment.
Finally, having a system that you can log into, your employees can log into, and your customers can log into is also important. Each of these user groups should have a different dashboard that displays information specific to them. You should have complete control and visibility of all appointments, services, agents, and more.
An appointment booking plugin isn't just "submit a time that you want to meet and throw me $20", it should be a completely integrated piece of software that works well with your calendar, payment system, and WordPress website.
Why Use A Plugin?
If you're a business owner you're probably being blasted with appointment management SAAS ads on YouTube and Google (well, at least I am). All of these are standalone, software as a service solutions. they do their job of appointment scheduling, and they do it well.
You may be wondering, why should I use a WordPress plugin to fulfill this task? The simple answer is that you'll get more value for your dollar. Most WordPress plugins cost a lot less (annually) then the common standalone appointment booking solutions while offering more features.
Let's take a look at the top three standalone appointment booking solutions and their annual pricing:
| | | |
| --- | --- | --- |
| | | |
| Calendly | vCita | Acuity Scheduling |
| $144/yr (Pro, per user) | $540/yr (Business) | $300/yr (Growing) |
That's a lot of money. Keep these numbers in mind when we take a look at the pricing of each of the plugins on this list.
Now, let's take a look at 4 plugins that are great ways to add appointment booking and management systems to your WordPress website. We're going to focus specifically on the features that they have to offer, the pricing, and the design/usability. This article should give you all the information you need to know when it comes to getting an appointment plugin for WordPress.
Also, keep in mind that there is some plugins out there that integrate with third party services. We're not going to include these on our list because we want to keep the appointment management and scheduling functionality within the WordPress website.
LatePoint is an appointment booking plugin for WordPress that offer is an extremely well designed booking management system. On the front end, customers can easily choose a service and pay for it online. On the back end, appointments are synchronized with Google Calendars, meaning that there is no possibility of a customer booking an appointment for a time that is unavailable.
On the back end, you can easily manage every aspect of appointment bookings.
The plugin costs $59. That covers updates and six months of support from the author. It has many different integrations and allows you to send SMS reminders from the Twillo API.
Why We Like It
The main reason why we like LatePoint is because of its high quality design and ease of use.
the development team did an amazing job when creating this plugin. The back end dashboard is separate from your typical WP Admin Dashboard, resulting in a streamlined and separate experience when managing appointment bookings.
The design does not feel like a WordPress plugin, in the best way. Instead, this tool is one of the best designed pieces of software we have ever used. It reminds us of extremely high quality, enterprise level SAAS products.
The sheer volume of integrations with high quality services is great, and the development team behind the platform continuously adds new features and integrations.
there are extremely powerful features for large businesses. If you have multiple locations, need to sell many different services, and/or have many individual agents, this tool is built for you. As an administrator, you can set up multiple store locations and specify different pricing for the same services. Agents have their own dashboard which they can log into and manage their specific appointments. Agents can also integrate the platform with their own Google Calendar.
We wrote an extremely in depth review on LatePoint that runs through it's design on both the front end and back end, and includes many screenshots and use case scenarios. Having used this in several of our agency projects (and personally), we strongly recommend checking out this plugin and reading that review.
Amelia is another high quality appointment booking plugin for WordPress. It integrates well with your website, is extremely powerful (offering tons of advanced features), but packages everything in a simple and easy to understand dashboard.
Like LatePoint, this plugin also costs $59. However, you can get an unlimited license, or license for three websites as well. If you're hunting for value, this plugin definitely offers the most bang for your Buck. That's because (unlike many other plugins out there) you can pay for a lifetime license ($189 for 1 website). Purchasing the lifetime license gives you access to the plug-in, support, and updates forever. That means that there's no annual cost -- If you're looking for a long term solution, this offers the most value by far.
Why We Like It
the plugin has great user role management capabilities. On the front end, customers can manage their existing appointments. On the back end, agents and administrators alike can log in and manage everything from payments to appointments to calendars.
This tool integrates with many calendars, payment systems, and more. It also works with WooCommerce. This is great because it allows you to access all of the payment processing capabilities that come with WooCommerce. Additionally, if you're already using WooCommerce to sell products on your website, this will integrate flawlessly.
There's a native Zoom integration. That means that customers can pay for a zoom meeting . After the payment is processed, a zoom link is automatically generated and sent to both you and the customer. When the time rolls around for your meeting to occur, the Zoom link goes live.
Like LatePoint, we have personal experience with the Amelia plugin. It's extremely well designed and easy to use. We recommend reading our detailed review and taking a look at the plugins website. (Though LatePoint is still our favorite WordPress appointment booking plugin )
If you're already using WooCommerce and looking for a solution that integrates well with the e-commerce platform, there's an official third party bookings extension. It has all of the features that you would expect with a premium booking solution for the WordPress website, such as email notifications, deposits, and more.
If you're in the accommodations industry (vacation rentals, short term rentals, hotels) then this is probably the best offering for you. There's a free extension called "WooCommerce Accommodation Bookings" Which helps you track overnight and long-term bookings for your property. There are specific features for this industry such as room rates, check in and check out times, and more.
While the Addon is free, WooCommerce Bookings comes in at $249. This is more expensive than the first 2 offerings, but it natively integrates with WooCommerce and could be a good option if you are already using the ecommerce platform for other product sales. By integrating with WooCommerce, you can get all of your revenue on one dashboard, and easily add services using the interface that you're familiar with.
Why We Like It
This plugin is developed by WooCommerce, meaning that you know the product is high quality and works perfectly with the underlying E-commerce software.
Because it works with WooCommerce, you can integrate it with your entire product catalog, linking products, setting attributes, and more.
You can manage the number of people attending your booking by setting a minimum and maximum amount of attendees. With this feature you can multiply all the costs by the number of people attending, and even set up people types (which would impact the pricing).
by using the WooCommerce checkout, existing customers already have their information stored on WordPress and are familiar with your checkout process.
This is a great plugin if you are already using WooCommerce for your company. However, it comes in at $249, so if you don't have an explicit use for the plugin, we recommend checking out the first 2 entries in this list of appointment booking plugins for WordPress.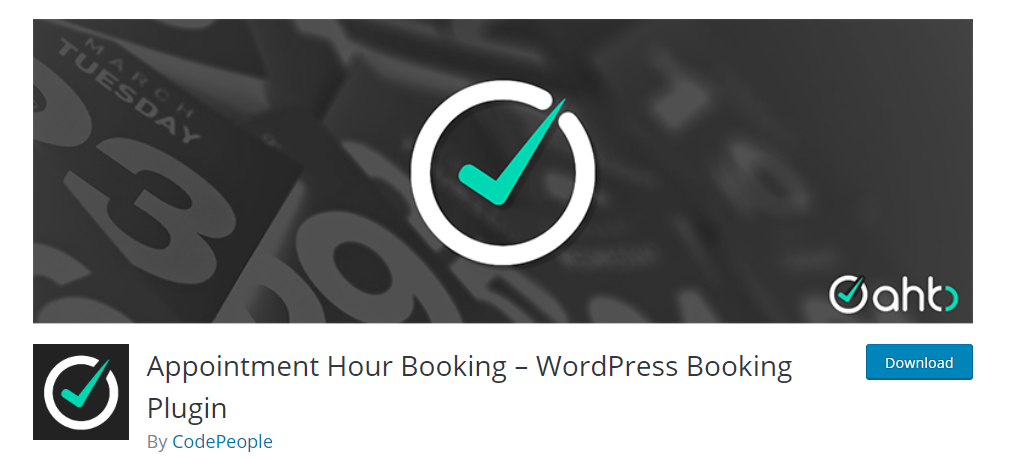 Finally, we wanted to offer the best free appointment booking plugin. As we stated in the beginning of this article, you'd be hard pressed to find an appointment booking plugin for free that offers all of the functionality that a business would need. That's because the development of those functionalities takes a lot of work, and developers (like everybody) need to be compensated for their time.
With that said, here's a free booking plugin that offers a lot of functionality: Appointment Hour Booking.
Appointment hour booking is a booking calendar that you can embed on your WordPress website. Customers can schedule appointments during your business hours. Once the customer schedules an appointment for a specific set of time, that time slot gets closed.
You can charge for services , set up multiple calendars, configure working dates, and have customizable email notifications. Furthermore, there's support for Gutenberg and Elementor built in.
From a business end of things, you can print out an appointments list every morning /week. On the back end, you can manage your appointment listings, and also see graphic reports. With a little tinkering, you can also set up user roles and agents with the calendar.
However, if you want to access advanced features like SMS notifications and Google calendar synchronization you'll need to pay for the commercial version of this free plugin. Because you'd end up paying a similar price to one of the first two appointment booking plugins mentioned in this list, it doesn't make much sense going for the commercial version.
Conclusion
We hope that this article proved to be a valuable resource of high quality appointment booking plugins for WordPress. The first 2 entries on this list we have personal experience with and have used in multiple client projects. We highly recommend them, and have published detailed reviews on each individual offering. Check them out:
If you have any questions regarding appointment booking plugins for WordPress, feel free to reach out in the comments section below. If you have any additional plugins that you would like us to add to our list, let us know as well.