Divi and Avada are known as multipurpose WordPress themes. This means that they are essentially a theme and a page builder all rolled into one. Since these two are the most popular multipurpose WordPress themes on the market, we figured that we would pit Divis vs Avada to help you to work out which one is going to be the best choice for you.
Usability/Features
Let's start by talking about the usability and features of each of these themes/page builders. To be honest, there isn't all that much setting the two apart here, though. Both Divi and Avada are solid products.
Divi
Divi is the more popular of the two options here, and it isn't really that difficult to see why. it is an incredibly versatile piece of software.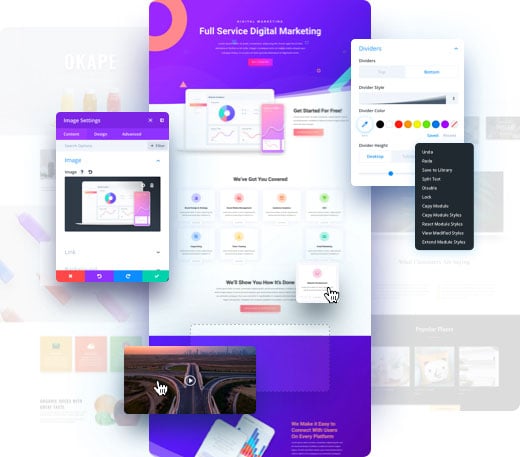 Out of the box, Divi provides access to over 800 pre-built templates. You also have about 80 different full website layouts ready to go. No matter what niche somebody is running their site in, we are confident that Divi is probably going to have a template that is ready to use.
Of course, if you are not happy with that treasure trove of templates, Divi makes it tremendously simple to build your own pages. It is all done by a live interface, and you will be able to drag and drop elements into place with ease. There are plenty of elements available and the popularity of Divi means that there are plenty of third-party options available if you can't find something in the Divi library that is suitable for the job. There are about 40 different elements that you can add to your Divi page, though. Chances are that you will always find something that works for you.
The Divi theme functions incredibly well. It is responsive, which means that it can look brilliant on mobile devices as well as desktop computers. It is also incredibly smooth too. This means that your site visitors shouldn't have any issues hopping from page to page. Your website visitor experience should always be at the forefront of things when you design your site and Divi makes that possible.
Avada
Just like Divi, Avada is a brilliant theme. It is fast and it looks good on mobile.
Sadly, Avada doesn't have quite the library of templates that Divi has. In fact, Avada has just 10% of the templates available. While this probably isn't going to be too much of an issue if you are looking to build your sites from scratch using the page builder, it can be somewhat off-putting for those that just want to click a couple of links and their site is ready to go. That being said, we do find that the templates available for Avada tend to be of overall higher quality than Divi. This is to be expected. Divi has gone for sheer quantity, while Avada has gone for quality.
Where Avada does shine is on the page builder. There are more modules/widgets that you can add to your page with Avada. Divi only has 40 available, while Avada has over 70 available. This means that Avada is going to be slightly better for those that are all about building their sites from scratch.
There is one frustrating thing about Avada, though. This is the fact that it doesn't have a real-time or live editor. This means that it can be tough to see the changes that you make to your website. It is fine if you are just making a couple of changes, but if you are looking to get really intricate with your page layouts and want to make dozens of minute changes, then Avada doesn't really work there.
Avada also makes use of a lot of premium plugins to work. While some people feel that this just saps up various resources on the site, all of the plugins that are used with Avada are quality plugins. They are ones that you would probably be installing anyway. At least they come included with the Avada package.
Ease of Use
Both Divi and Avada have been designed for new webmasters, but also offer enough versatility and complexity for you to be able to use them on top websites too.
Divi does win ever so slightly here. Obviously, the greater mix of templates to get you going is going to be brilliant for new webmasters. However, Divi also offers live chat support 24-hours a day. This means that if you do run into any issues, then the Divi team can help you out.
That is not to say that Avada is difficult to use. It isn't. It is an incredibly intuitive multipurpose WordPress theme. It is just that solving issues is a lot more difficult as there isn't a dedicated customer support system. There is hefty documentation that you can work through, but you will be left to your own devices to deal with any issues.
That being said, this is pretty much just a moot point. We feel that both Divi and Avada have been built solidly enough that you probably won't ever have to worry about seeking customer support.
Customer Reviews
Both Divi and Avada receiving glowing reviews from just about everybody that uses them. However, from what we can tell, Divi tends to receive far better reviews from new webmasters. Avada receives better reviews from people that are a bit more experienced in the web design game. That being said, neither platform seems to attract that many negative reviews. People love them both, so it is really a case of just trying to work out what gels with you the most.
Price
Divi will cost you $89 per year, or $249 for life. However, do bear in mind that for this price you are going to be getting access to the entire Elegant Themes range, not just Divi. You can use Divi on as many sites as you want.
Avada, on the other hand, is $60 per year per website.
Final Thoughts
Both Divi and Avada are great pieces of software. This makes a full comparison of Divi vs Avada ridiculously difficult. We can easily tell you to check them both out. If you are a new webmaster, then we do feel that Divi is going to be slightly better for you. However, if you have experience under your belt, then the versatility in terms of available modules of Avada is probably going to be a bit better.
Further reading: