In this article, we're going to take an in depth look at Elementor vs Oxygen, two site builders that we have used extensively as an agency.
We will be comparing the pricing structures, features that each tool has to offer, usability, and overall value that they offer to end users. These two website building tools for WordPress are commonly referred to as industry leaders, so we wanted to give you our thoughts on each of them.
Our history with Elementor vs Oxygen
As an agency, we've been using Elementor Pro for the past couple of years as a way to create client editable websites In WordPress. Elementor is incredibly powerful, easy to use, and now very mainstream.
We recently transitioned away from using Elementor to the Oxygen Builder several months ago after being introduced to it by a colleague. The main catalyst for this move was the fact that all of our Elementor web sites were incredibly slow to load, even though we followed best practices and optimized heavily (we run a speed optimization service, and this is consistent throughout all Elementor web sites).
Each page builder, Elementor and Oxygen have their flaws, though this is a major one that we identified with Elementor.
Elementor & Oxygen, What Do They Do?
Both of these offerings are plugins for WordPress that are classified as page builders. However, for this article, we are going to re classify them as "site builders". that's because you can create an entire website using both of these tools -- everything from the header, footer, body, popups, and more.
Now that we've introduced both of the tools, let's take a look at each one in depth, where we will review the pricing, features, and our experience with the tool.
Elementor Pro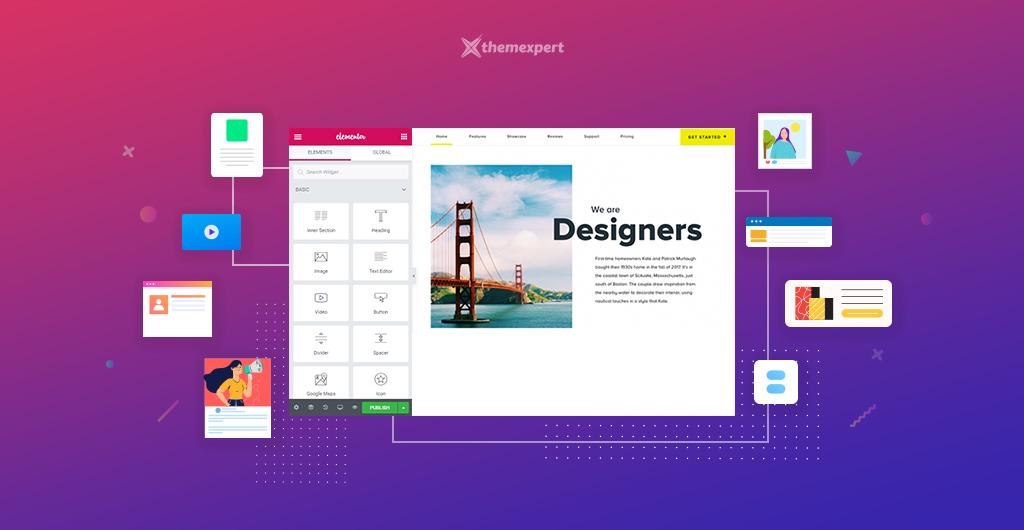 Elementor Pro allows you to visually build your website from the ground up. Using a drag and drop editor, you can pull components onto a canvas, creating pages, headings, and other website elements. The tool is designed to be incredibly easy to use, which is why we used it for several years. We needed a way to build complex, good-looking websites, while also allowing our clients to change content and add new pages after completing their project engagement with us.
Elementor offered the best of both worlds. It's simple enough to be understood by somebody who isn't technical, but powerful enough to build pretty much anything that we needed (while making tradeoffs).
Pricing
The agency pricing for Elementor costs around $200 per year for a 1000 site license. The basic pricing is $49.00 for a single site license. This must be renewed every year, or else you will lose access to the pro features. Pro features include additional widgets, the ability to create headers and footers, and more.
Market
As evidenced by their Facebook group, Elementor Pro is primarily built for those looking to get away from web developers and create a site for themselves. Because of this market, Elementor is designed to be incredibly easy to use, while offering some powerful features for developers.
In some cases, this ease of use can be limiting, but in others, it can result in an incredibly quick workflow. For example, they have a great feature which allows you to save existing designs as templates, which can be reused and repurposed. This can speed up this structural creation of a page immensely.
The Elementor page builder is a great tool, but one that isn't purpose built for agencies. You can definitely use it, as we have for many years, but there may be a better option out there.
Why We Left Elementor
As an agency, there are some apparent drawbacks to the Elementor builder. The first issue is the performance. The Elementor Dom is incredibly bloated, leading to extremely slow loading websites even after optimization. This was a consistent issue since the beginning of using the platform, and something that we simply had to "deal with".
Unfortunately, the development team is very focused on incorporating features that make their product more accessible to everyday users. We understand why they're doing this from a business perspective, but they don't fix important issues that have been apparent for years.
For example, requests to add custom mobile breakpoints to Elementor have been around since early 2017, though there has been no implementation of this feature since then. Custom mobile break points isn't such a hard thing to implement. This is the same with many other little things that would make a big difference to the agencies and developers that use the tool to build websites.
It was a combination of the performance issues, lack of developer engagement with agencies, and many minor issues that severely impacted our workflow that made us look for a competing product. Funnily enough, we were introduced to the Oxygen Builder by a colleague in the GitHub issue forums for Elementor. After taking a look, we ended up purchasing the $169 agency lifetime license, and began experimenting with the tool.
PS: Don't get us wrong, we're big fans of Elementor, but there are definitely some drawbacks. If you are interested in Elementor, check out this book that we wrote on Amazon.
Oxygen Builder
Oxygen Builder is another site builder that allows you to create a website from the ground up. It's quite unique in that it replaces the need for a theme in WordPress. With Elementor, you can use whatever theme you want, but with the Oxygen Builder, default themes in WordPress are disabled.
this is definitely a paradigm shift, but it also frees you from the limitations that come with themes. If you're looking for ultimate flexibility, doing it this way makes a lot of sense.
You can create full pages, page templates, headers, footers, and more. There are a ton of conditional visibility rules that you can use, eliminating the need for a plugin.
The primary difference between Oxygen Builder and Elementor is that this tool is definitely oriented more towards developers, agencies, and power users. While you can definitely use this tool as an individual looking to create a website, we don't think that that's the main Customer base here.
For example, Oxygen Builder allows you to implement PHP directly into your pages, which means that you can build complex templates quickly and easily period of course, to take advantage of these features you need to know PHP.
Oxygen also allows you to use complex CSS layouts, such as flex grid, and more. With this flexibility and functionality, you can create incredible websites very quickly. At the same time, you may find this confusing if you're not familiar with CSS.
From a speed standpoint in our Oxygen vs Elementor comparison, Oxygen is clearly the winner here. Their code is much cleaner, less bloated, and websites built with the tool are surprisingly faster. We recently transitioned from Elementor to Oxygen, rebuilding our agency website with the tool. We incorporated similar images and layouts, had experienced a massive performance increase with Oxygen.
Oxygen also comes with two integrations if you purchase the agency package. One of them allows you to access unique WooCommerce components, building your shop from the ground up. Compared to Elementor, the WooCommerce components here allow you to completely style The E Commerce platform the way you want.
Oxygen also integrates well with the Gutenberg editor. This allows us to have our clients be able to change specific content, while not being able to structurally change anything. If you're an agency comparing Oxygen vs Elementor, this should be a major consideration. If you give your clients access to the Elementor builder, they can completely edit the entire page, whereas if you use the Gutenberg integration with Oxygen, clients can only edit things that you allow them to.
Pricing
The agency pricing for Oxygen is $169, whereas the basic pricing is $99. These are lifetime purchases, which give you access to support and updates forever. In the long run, this is much more economical than Elementor. Even if you're purchasing the cheapest license, that would cost $49.00 per year, meaning that Oxygen becomes more valuable in only two years.
Oxygen VS Elementor: Our Thoughts
The Elementor builder is great if you're looking for a simple and easy way to build a WordPress website visually. If you're not technically knowledgeable in PHP or CSS, this could be a good option for you. However, Elementor is quite limited and slow. If you're looking for something that offers a lot more power, but has a bit steeper learning curve, Oxygen is the best bet.
In our opinion, Oxygen beats Elementor any day of the week. However, that's coming from people who are incredibly experienced with WordPress, and proficient with PHP, CSS, and HTML.
We recommend giving both Elementor and Oxygen try. Elementor comes with a 30 day money back guarantee, while Oxygen Builder comes with a 60 day money back guarantee. You can easily purchase both of them, install them on local installations, test them out, and returned the one that you don't like.
Conclusion
When it comes to Oxygen VS Elementor, there's no clear winner. If you're looking for simplicity, Elementor wins. If you're looking for speed and flexibility, Oxygen wins. Both are incredibly well designed, and can definitely be learned. While Oxygen has a steeper learning curve, it forces you to learn basic CSS, which probably means that a website created with Oxygen will look and function better than a website created with Elementor.