In this article we're going to be taking a look at the LatePoint appointment scheduling plugin for WordPress. If you are looking for a plugin that allows you to accept online bookings from a set of time slots for you or your business, then LatePoint might be a great option for you.
What This Review Covers
In this LatePoint review, we're going to go over our personal experience with the tool, potential use cases, integrations with third party services such as Google Calendar and Zoom, and more.
We're also going to do a front end and back end walkthrough of the plugin, discuss the pricing, competition, and value proposition. Hopefully this review will give you all of the information that you need to make an informed purchasing decision.
LatePoint Introduction
If you're reading this review, you probably already know what LatePoint is, but we wanted to quickly introduce what this plugin actually does.
LatePoint is a WordPress plugin that ads complete appointment booking management capabilities to your website. On the front end, customers can easily book and pay for services and appointments online. On the back end, you can manage all of your appointments in one place, while integrating with many third party services.
It's a super well designed piece of software that looks exactly like enterprise level SAAS tools.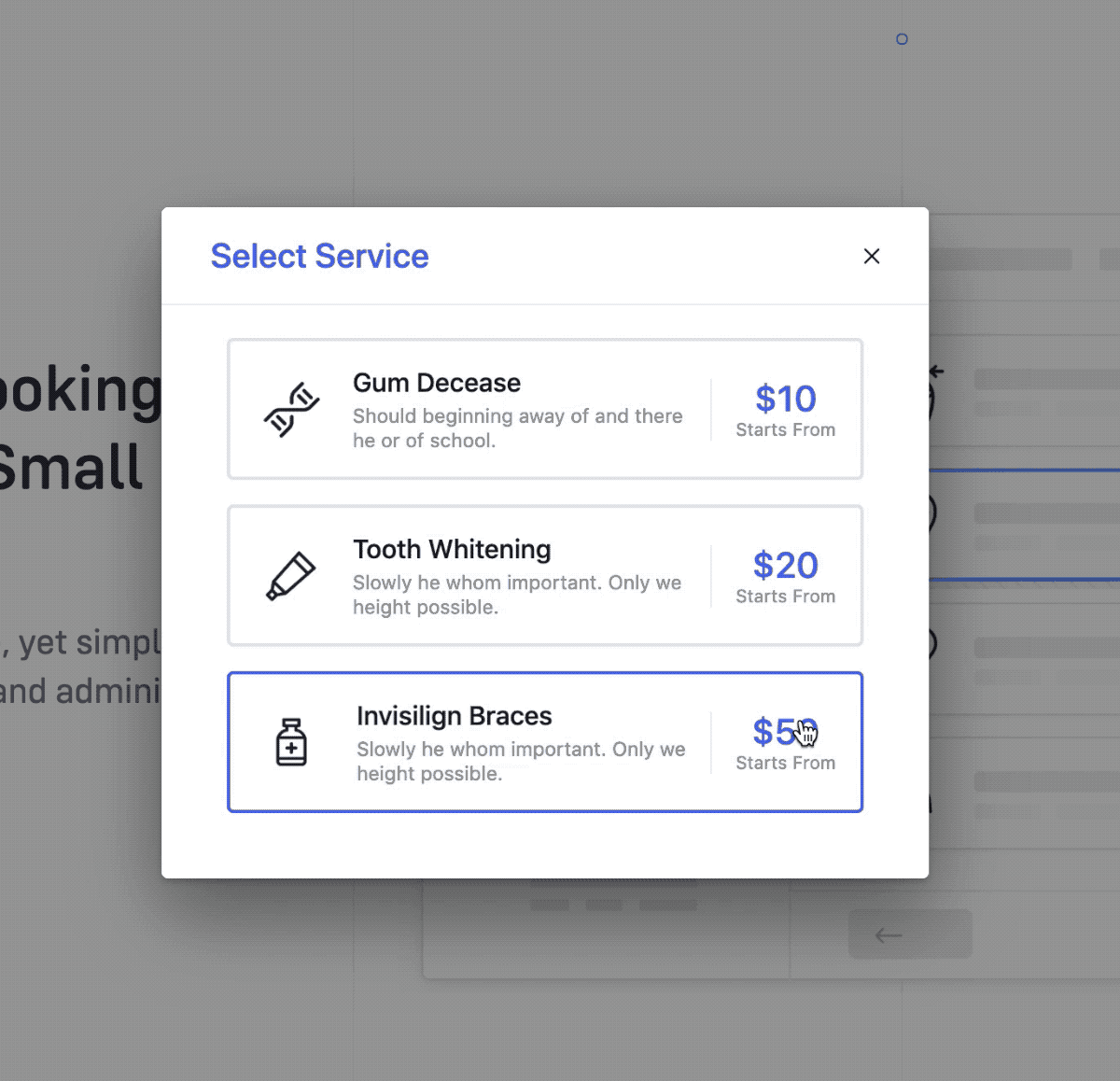 LatePoint includes many advanced features that makes it relevant to small businesses as well as large companies. For example, you can have multiple agents, multiple locations, and multiple services for sale all at once. By using user roles, you can have employees who manage all of the agents. the back end allows you to easily visualize appointments, and manually add new ones.
And, all of this is done through your WordPress website meaning the integration is seamless. Here are a couple visualizations of the platform:
We Personally Use LatePoint
We have used this plugin in the past for our consulting business.
That makes this LatePoint review authentic and relevant. After using this plugin for several months, we feel qualified to\o speak about it.
We needed a way to sell phone calls and zoom meetings on line, and LatePoint was the best solution to do it. Not only is it extremely well designed (it's one of the best designed plugins we've ever used), but it fully integrates with our Google Calendar, Stripe, and sends email and SMS reminders automatically.
Our customers can easily schedule consulting calls through our system by navigating to our late PT appointment booking page, entering their information (this can be done in one click through a login with Google integration), And paying via Stripe.
This application is extremely focused on the payment side of things. You have the ability to set up coupons, and you can conditionally change the price based on the service addons and number of people attending. From a client side, they can pay upfront for the entire call, or you can set up a deposit system where they only need to pay a percent beforehand.
It also integrates with your existing WordPress website. You can easily add booking forms, as well as a button for a booking form. The booking form displays all of its fields in the content of your website.
If you add the button, when a user clicks on it a well designed booking form will pop up. This truly integrates it anywhere into your website (including CTA is in blogposts) and makes it easy for your customers too make on line appointments or bookings through your WordPress website.
LatePoint Use Cases
This works perfectly for multiple use cases.
as you'll see in a later section of this article, the platform is extremely expandable. You can add many types of services, from phone calls, too video conferences, to physical appointments.
That means that you can use this plugin for many different use cases. For example, if you're a consultant who does phone calls and video chats (especially relevant in the coronavirus era), you can easily sell them through this application.
If you are a company who offers a physical service, for example plumbing billed hourly, nail/hair appointments, or anything else along the lines of this, you can use this tool to have customers book available time slots and pay online.
If you are a large company with multiple locations regionally or nationally, you can group services under multiple locations, charging different rates for different areas.
That makes this tool applicable to really anybody from a sole proprietorship to a massive conglomerate. And, as you'll see in our front end and back end demos, this application is truly designed for anything you can throw at it.
LatePoint Pricing
LatePoint is sold on Codecanyon, meaning that it has only one plan available. It costs $59 per year. That allows you to use it on one website.
It's one of the best selling products on the Envato Market with almost 1500 total sales and a 4.92/5 star rating from 103 reviewers.
If you compare LatePoint to the other two leading SAAS solutions out there, it's much cheaper while offering more features.
An equivalent vCita pricing plan (this one offers comparable features to Amelia, unlike Calendly) costs $45/month for one user.
That's $540/yr for similar features.
Calendly: If you opt for an annual plan, it costs $12.00 per user per month.
Let's assume that you have two users and you're paying for the plan annually. That comes out to be $288.00 per year.
The only other plugin that even comes close to offering the same appointment/booking features that late point does is Amelia.
LatePoint Features List
In this section of our LatePoint review, we're going to introduce all of the features that this WordPress plugin has to offer. We alluded to some of the more powerful and well-known features in the introduction section, but now we're going to cover this in depth. Hopefully from this section you should be able to figure out if this plugin is a good fit for you.
Payment integrations
calendar integrations
custom dashboards for employees
user onboarding and front end appointment management
ability to add multiple services and addons
ability to have multiple locations
Email/sms Notifications and reminders
active development team that listens to customer requests
promo codes and coupons
and many more which you can view on their CodeCanyon entry
LatePoint Integrations
On the topic of features, LatePoint has a ton of integrations which connected to third party services. This not only saves you and your customers time, but it increases the functionality of the plugin.
Payment Processing Integrations
Most businesses want an online appointment booking solution That customers can use to easily pay for services. For example, if you're selling haircuts, you could sell a 30 minute haircut appointment for $30. Customers will use the payment processing integration to pre pay for the service. This is a great feature that saves time, and in the coronavirus era it reduces the contact between a customer and you.
LatePoint Natively integrates with PayPal, Stripe, and BrainTree. That means that you can accept payments on arrival, but also bill via credit card, PayPal payment, and more. You can also set up deposits, or have the customer pay in full before the appointment. Setting up these integrations is extremely easy as we will review in the back-end walkthrough of LatePoint.
Google Calendar
LatePoint Will integrate with the agent's personal Google Calendar. What this means is that if an agent has a slot booked on their Google Calendar, it will not be available for purchase on the LatePoint interface.
For example, if an employee has a business lunch between 12:00 and 2:00 on a specific day, that time slot will be greyed out on the LatePoint interface and unable to be purchased by a customer.
Employee/Agent Management
Employees and agents have their own dashboard and calendar, which means that they can manage events on their own. This saves you a lot of time and is a necessary feature if you are a large company. This dashboard is mobile responsive meaning employees can log in and manage their bookings on their phone.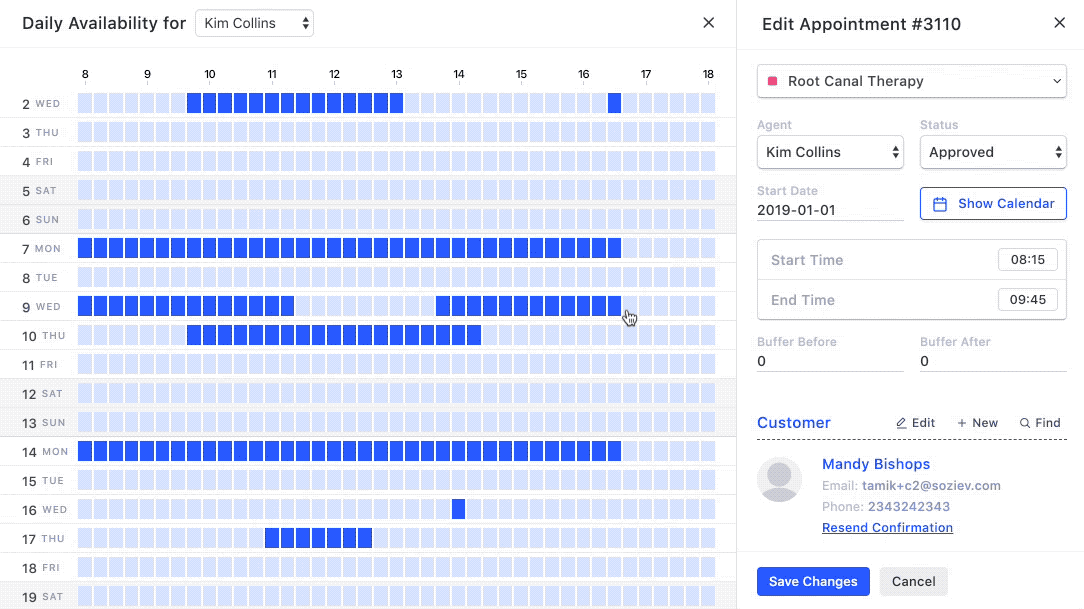 SMS & Email Notifications
LakePoint integrates with all email providers and the Twillo API which allows you to send SMS Notifications about the appointment. For example, you can remind a customer a few hours before the appointment that they have won by sending them a quick text message.
LatePoint Walkthrough
As you can see, this is an incredibly powerful appointment booking manager for your WordPress website. Now, let's do a front end and back end walkthrough to understand the features and design a bit better. We've actually created a YouTube video that walks you through everything (frontend, backend, setup), so if you'd like to take a look it is embedded below.
For our front end and back end walkthrough we're going to be taking a look at the design, usability, and features that the plugin has to offer both clients and admins. From this LatePoint review, you should get a good understanding of the quality of this plugin. We stated this in the beginning of this review, and will state it again: This is one of the best designed plugins we have ever used for WordPress. Furthermore, it's one of the best designed pieces of software we have ever used.
LatePoint Frontend
The LatePoint front end is extremely well designed, clean, and easy to use from a customer standpoint. This means that you're minimizing the risk of form abandonment, and making it as easy as possible for a customer to book one of your services. Let's take a look at the booking process from start to finish.
First, a customer begins entering information into a form. the form is either embedded on a page in your WordPress website via shortcode, or it pops up when a user clicks the "book appointment button". In its base form, it is extremely well designed and looks very modern. The first thing that pops up is the select a service button. In this example, there are multiple services to choose from, grouped by category.
After selecting your category, you can see each service, a descripcion, and the pricing (When clicking on everything, there is a very pleasing animation between each section).
You can then select your service duration, which displays the time and price.
If you've configured it, you can go ahead and add service extras. There is support for individual services as well as quantity services. This is a great way to add an additional components and upsell your customer.
The summary section of the form continuously updates as you enter new information.
If configured, the next step is selecting an agent. If there is only one agent, they are automatically selected. You can view details for individual agents, which is a good way to differentiate them.
After selecting your agent, their respective calendar will pop up, and you can easily schedule an appointment during one of their free spots. Select the day, and then the time that you would like the appointment to happen. These times are prefiltered and only display spots in which the agent is free. Remember, you can set business hours as well as sync it with an agent specific Google Calendar.
In this example, the green spots are free, while the grey spots are booked. This could either be because there are other customer appointments during these times, or the agent simply isn't free. These time spots correspond with the duration of the appointment. In our example, this is 90 minutes, but if you chose a 30 minute appointment they would update accordingly.
After selecting the time slot, the customer can either register or log in. If they've logged in, there payment information is saved (no credit card numbers, but the billing address). if they haven't logged in, then they can register for an account.
LatePoint has integrations with both Facebook and Google for SSO , allowing customers to log in (or register) with one click.
Once you've logged in an added the necessary information, you can pay for the service. In this example, you can either pay locally or use PayPal/Stripe to pay in advance. There's also the ability to add a coupon code.
In this example, we opted to pay now with a credit card. After selecting that, you can choose to pay a deposit or the full amount. Of course, this is dependent on if you, the business owner, allows deposits to be made. If you're allowing a deposit, typically it is a percentage of the total cost. In this example, we're selecting pay with deposit only to show you that functionality.
There are no other appointment booking plugins for WordPress with the ability to accept deposit payments (to the best of our knowledge). The payment system that uses Stripe is one of our favorite features of this plugin. That's because the design and user interface is super well thought out and easy to use. Once you click pay by full amount or deposit only, a credit card pops up where you enter all of your information. All the processing is done through Stripe, but customers don't need to be pushed off your website to make the payment.
After the customer makes their payment, they are presented with a confirmation page. This acts as a receipt, and a way for the customer to add the appointment to their calendar. They can scan a QR code to add it to their mobile device as well.
Because they needed to register for an account when Scheduling their appointment through the WordPress booking system, they can access the account to manage reservations and create new appointments. This is truly an end to end booking system for WordPress.
There are additional integrations such as a live chat, customer messaging, and more that extend the functionality of the platform to act as more of a CRM after scheduling an appointment. We discussed that in the features section of this article, and use it in our own LatePoint installation.
Hopefully, that should have given you a good overview of the front end appointment scheduling that LatePoint has to offer. As you can see, it is extremely well designed and easy to integrate into any WordPress website. To continue our LatePoint review, let's head to the back end of the plugin And take a look at all of the features that it has to offer you, the business owner. Remember, we did a full video on LatePoint which is available on YouTube.
LatePoint Backend
The LatePoint back end is extremely well designed, and offers all of its advanced features in an easy to use and understand manner. We recommend watching our video which discusses LatePoint in more depth, as it will visually walk you through everything that the plugin has to offer.
This section will only scratch the surface!
You can also request a LatePoint demo -- the team behind the plugin will set up a personalized installation for your company which you can then go ahead and mess around with.
Now, let's get into some of the screenshots and features that the back-end has to offer. The LatePoint back end. This review is going to cover the main dashboard that the administrative user has access to. Keep in mind, you can set up individual logins for specific agents. From the agent dashboard, they can manage their respective appointments and calendar. It's also fully responsive! (There's no application, but Isotropic can build you one - if you're interested, reach out).
From the main dashboard, you can easily create appointments, view upcoming bookings, and more. On the top, you can start typing to find customers agents and services.
From the calendar tab, you can view all events, including scheduled appointments. In this example, you can see that there is a Google calendar event blocking out the timeslots between 8:00 and 10:00 AM. That means that LatePoint won't let anybody schedule an appointment with this agent as it is taken.
You can easily manage your services, agents, customers, locations, and coupons.
In this example, you can add a new service, or edit existing ones. You can also categorize the services, create addons for those specific services, and more. Services themselves have a duration, a price, and a buffer. The buffer adds unbookable time around the service, giving your employees a break between their appointments.
Here you can add coupons which give either a percentage discount, or a fixed discount.
Something you may have noticed; this is a WordPress plugin, but the back end dashboard looks nothing like WordPress. That's because this tool launches its own dashboard. It means that you can completely separate it from your WordPress dashboard, leading to a better experience for your agents and yourself.
Everything is easy to manage and easy to set up. If you're confused about how to use the dashboard, the company has an extremely well written documentation which details every setting that can be changed in the back end. It also helps you set things up with the video tutorials. Delayed point back end is extremely well designed, easy to use, and launches its own interface. This keeps it separate from the WordPress back end, while allowing you to integrate natively.
It's also fully responsive and can be viewed on all types of devices.
LatePoint Review – Our Thoughts
As we mentioned in the beginning of this review article, we have used this plugin to manage our appointment bookings for several months now. It is extremely well designed - it functions better than most plugins and standalone software out there.
The pricing is on par with the quality, and beats out monthly SAAS subscriptions by a large margin.
If you're looking for an appointment booking system for word press, this is for you. It can accommodate everybody from sole proprietorships two large businesses with multiple locations.
As an agency, we have recommended an install this for several different customers. One customer was a dental office with multiple doctors (customers scheduled appointments online). The back office manager was able to use this system to completely manage the onboarding, scheduling, and follow up process from the WordPress website.
There was absolutely no need for any additional software, and this cut monthly recurring costs down to zero.
Another client that we used this for was a multilocation hair salon. Customers were able to choose their location, service, add-ons, and haircutter from this interface. It was a good example of how LatePoint worked when managing multiple agents, locations, services, and more. Between the locations, there were probably 100 appointments per day, and this tool was able to handle all of them with ease.
Conclusion
LatePoint Is an amazing plugin that allows you to incorporate appointment booking management into your WordPress website. It's truly enterprise level, but comes in at an extremely reasonable price. As many businesses are looking to transition into appointment scheduling (either because they're doing everything on line now, or they need a way to accept payment without being in close proximity to their customer) tons of companies are looking for a solution just like this. Hopefully this article should have presented you with LatePoint, one of the best plugins out there.
We hope this review on LatePoint was helpful and provided you with the information that you need to make an informed purchasing decision.
If you have any questions regarding this plugin, feel free to reach out in the comments below. We have first hand experience with the setup process as well as the on going maintenance process for LatePoint, and would be happy to help!