When it comes to WooCommerce (and Ecommerce in general), high quality reports and analytics plugins are absolute necessities. They help you understand your customers, which products are selling, what your conversion rate is, cart abandonment, and more. It's even more helpful if this data is visually accessible in the form of a graph or report.
The base installation of WooCommerce comes with pretty decent reporting, but if you were looking for advanced analytics , you're going to need to get a third party plugin. Many of these work well with Google analytics, but some bring their own analytics platforms to the table. All of them help you understand the robust collection of data and metrics that your website generates everyday, which you can easily use to boost your bottom line.
With WooCommerce, there are tons of WordPress plugins out there that you can use to get a better picture of your data. This list contains the top 10 WooCommerce reports and analytics plugins. Each one is a bit different, so you should be able to find one that meet your e-commerce needs here.
Enhanced Ecommerce Google Analytics
At the top of our list is an incredibly well designed WordPress plugin that allows you to access advanced analytics for WooCommerce. This is done by integrating seamlessly with Google analytics, and the best part is:
It's 100% free, and has a five star recommendation from 150+ happy users.
Enhanced Ecommerce Google Analytics Plugin for WooCommerce has over 40,000 users (us included), and helps you integrate your website with Google analytics in one click. There's no coding required, and will also generate three categories of high powered reports.
It will give you audience reports, behavior reports, and acquisition reports. The audience reports show you who your customers are. What geographies are they from? What gender?
The behavior reports show what the user does on the page. For example, did they go from the home page to a product directly to the cart, or did they browse for a while?
The acquisition report shows how people are getting onto your ecommerce store to begin with. What sources are they being sent to your website from? What keywords in Google are they clicking on?
Of course, it doesn't offer all of the advanced features that you would expect from a premium plug-in, but keep in mind that it's a free solution that is available directly on the WordPress repository. If you're looking for more powerful features, then you can opt for the pro version. In the free version, there are a lot of advanced features behind the paywall. This is accessible, insightful data that you can use to increase the revenue of your shop. However, if you want to access it through this plugin, you'll need to go for the paid version which costs $135.
The paid version (which is called Actionable Google Analytics For WooCommerce) gives you more access to metrics such as date, time, device type, user segmentation, time spent on page, and more. It also gives you better designed reports that are easier to understand. Finally, you can set your own custom dimensions and metrics to track your own goals.
Exactmetrics is one of our favorite WooCommerce plugins for analytics, and it doesn't fail to deliver when it comes to reporting either. This is an all-in-one tool that integrates perfectly with Google analytics, instantly setting up event tracking, and allowing you to track real time visitor counts from your WordPress dashboard. If you're looking for a premium, high quality solution for analytics and WooCommerce revenue reporting, exact metrics should be on your list (which is precisely why it's on ours).
We use this plugin in many client websites where there is a need for a simple, easy to use, but incredibly powerful analytics tool that integrates well with Google. It works well for general analytics, as well as E-commerce reporting. You can track metrics such as revenue, conversion rate, cart abandonment, and more. Everything is in a easy to understand visual dashboard, and integrates directly into Google Analytics if you're looking for more powerful segmentation.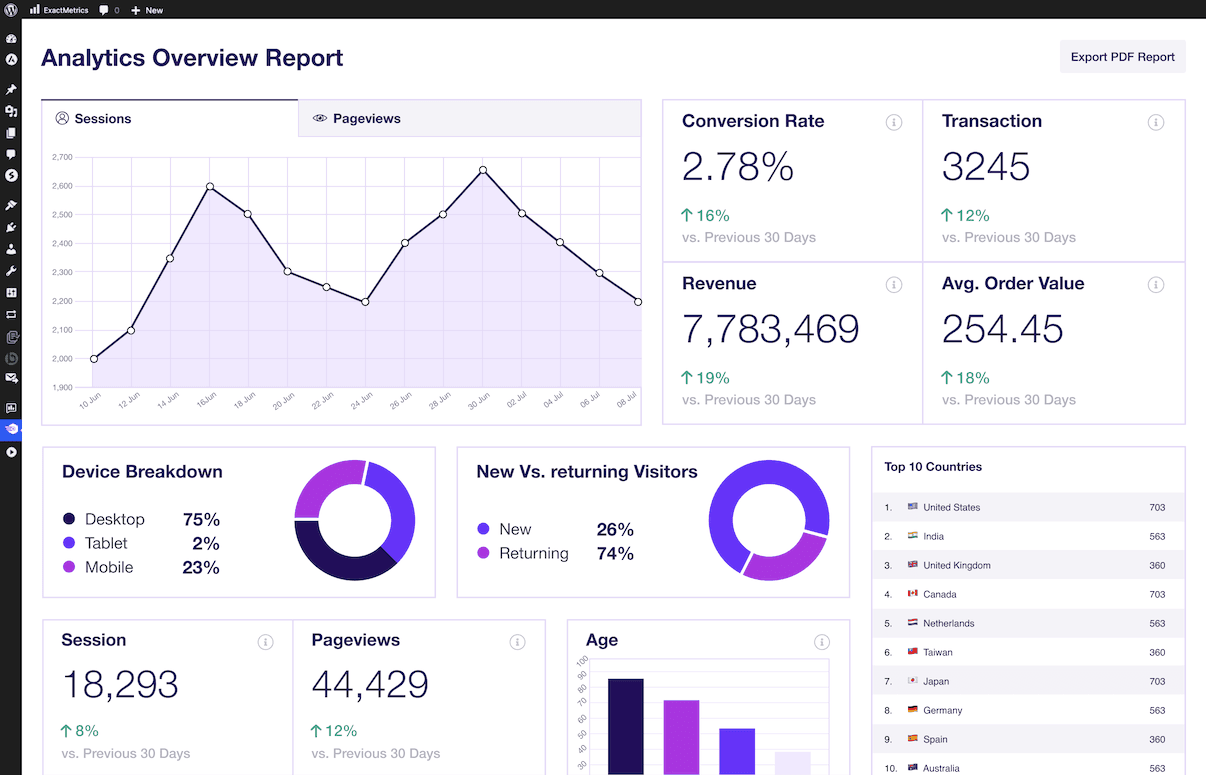 Keep in mind, this tool is different than the exact metrics which you can find for free on the WordPress repository, and it's also different than monster in sites.
If you're selling in the European Union, many analytic solutions Are non compliant with the GDPR. This goes for other regions like California, and other regulations like COPPA and more. ExactMetrics Automatically makes your website compliant, even while using Google analytics as the underlying software that powers its interface.
If you're looking to increase conversions in revenue, you can even set up Google Optimize which is an AB testing analytics platform outside of Google analytics. This is great if you're trying to make your WooCommerce shop as user-friendly and high converting as possible.
This is an advanced plugin that allows you to track preset metrics, as well as custom defined metrics. It doesn't come with the reporting aspect, but offers you an easy and cheap way to set up custom Google Analytics events and goals.
Here are the preset actions that you can track, which are common occurrences on WooCommerce stores:
coupon applied / removed
order refunded
order cancelled
order completed (both orders that reach the thank you page and those that don't!)
customer sign in / out customer views or completes registration form
product reviewed / commented
customer email opened
One of the unique aspects about this plugin is the user tracking. you can easily understand when customers sign in and out, and how long they remain on pages. This is helpful if you are selling high ticket items to specific customers on your website , giving you a better understanding of their thought process.
It also integrates directly with the "Checkout Behavior Analysis" aspect of Google Analytics – automatically.
The cost of this plugin comes in at $79, and it's available on the official WooComemerce addons site.
Matomo Analytics For WordPress
Matomo analytics is a free, open source alternative to Google analytics. It has a lot of advanced features, and is great if you want to track conversions, customer flow through your ecommerce website, and simple page visits using an on-site, open source solution. Matomo is well known for its stance on privacy. You get the whole picture with this plugin, And have 100% ownership of your data. The tool has some very advanced, enterprise level features, like conversion and goal tracking.
This allows you to set up specific goals which are triggered when a user completes a purchase, submits a form, or anything else that can be easily tracked through events . You can then Visualize the data and track what steps the customer went through to get To that end goal. This is very helpful if you're trying to analyze what works well in your WooCommerce shop, and what you should focus on.
There's also an official extension for Matomo that offers you more detailed Ecommerce reports and metrics. Unsurprisingly, it's called "WooCommerce Analytics" and costs $39.
While the goal tracking is very robust, and comes with the free version of Matomo analytics for word press, the WooCommerce plugin Extends the functionality of this privacy oriented, open source, self hosted analytics tool and shows you exactly what's going on in your WooCommerce shop. You can track the orders, revenue, purchased products, and abandoned carts in one place.
This tool combines the analytics and reporting aspect of this article into one neat package. Instead of getting multiple plugins, each of them costing in the hundreds of dollars, you can use a free open source base analytics plugin, and opt for the $39.00 WooCommerce extension.
We are big fans of this tool because it works well, and is the best alternative to Google analytics. We even use it in some of our own websites. If you're interested in 100% data ownership, customer information privacy, and more, this WooCommerce analytics and E Commerce reporting plugin Is a great solution for you.
Developed by Woo, this is a free plugin that simply integrates your WooCommerce store with Google analytics, allowing you to track basic conversion metrics, how customers end up on your ecommerce shop, and what pages they view.
It does help you track your most popular products, how users get there, and what drives your users to the checkout. Have you looking for an incredibly simple , no bells and whistles, Google Analytics integration for WooCommerce, this official plugin is your best bet.
If you need more advanced analytics, opting for the pro version by SkyVerge is recommended by the WooCommerce Dev Team.
This tool is an integration which allows you to connect your woocommerce site to E commerce analytics Glew. This tool is cloud based, which is nice because you're able to see all of your metrics on any device.
This tool centralizes many individual metrics, leading to cross channel analytics. Even better, it's not just a reporting platform, but it's good for calculating cost of goods sold , return on investment, and other important metrics that may be very beneficial to your WooCommerce shop.
If you're looking for a cloud analytics solution for WooCommerce, that has tons of reports across multiple channels, and allows you to account for many individual metrics, Glew is worth a look.
You can also easily understand what drives your customers to purchase products, incorporating and integrating the Glew reporting tool into multiple advertising campaign tools, E-commerce integrations, and more.
Kissmetrics For WooCommerce Is another well regarded analytics integration by Skyverge (They are the same development team that created the advanced Google Analytics integration for WooCommerce which was discussed above).
Kissmetrics is an incredibly well regarded analytics tool that shows you actionable inside that you can use to ensure customer satisfaction and generate more revenue. It's one of the leading analytics tools in the enterprise level customer tracking game. By integrating it directly into your WooCommerce installation, you can easily track your revenue overtime segmenting products, categories, user cohorts, and more.
There are very well designed visual analysis tools. For example, you can visualize your sales funnel quite easily, and understand your conversion rate simply. You can also take a look at real-time analytics, with high-definition event tracking. This is similar to the Google analytics event tracking, but has much more resolution. for example, you can see (in real-time) every click, login, pageview, property, and more in real time . You can also filter it by individuals, events, properties, and other categories.
This is very customizable, and Kissmetrics Is known to offer some of the best data insights and analysis tools out there. Incorporating this into your WooCommerce website will lead to a more profitable E-commerce venture.
At the same time, this is definitely oriented towards enterprise level shops, as it costs $149 per year. Luckily there's a 30 day money back guarantee, allowing you to try it risk free.
Yet another reporting plugin for WooCommerce that's found on the official WooCommerce extensions website, this tool specializes in cart abandonment statistics and graphs. You can see real-time metrics on your customers shopping carts, Tracking what is being bought as it is happening.
This is really helpful if you're trying to understand how a viral marketing campaign is really working in real time period it's a great feeling to watch somebody enter something into a cart, run through the checkout, and become a paying customer.
It's very easy to install, it comes with dashboard widgets, and you can filter and sort the data in many different ways. However, the real time aspect and data management aspect of this abandoned cart reports plugin for WordPress isn't its main selling point (as its name suggests).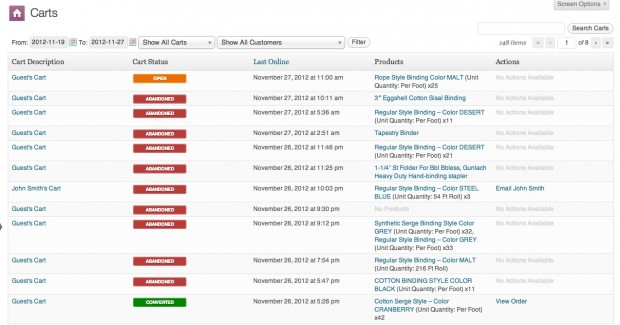 Where this plugin really shines is if you're trying to understand why customers are putting products in your carts, but not completing the checkout. You can easily understand when customers log in, the actions that they take to enter something into a cart, and the time that they leave the cart. This allows you to fine tune the sales process, potentially increasing your conversion rate.
You can also automatically contact customers when they logged in, but have abandoned their shopping carts.
This tool comes with a ton of individual widgets, charts, data export tools, and more. If you're trying to understand why you have a high abandonment rate, or track your cart activity in real time, this plugin could be a very good option for your WooCommerce shop.
Last, but not least on our list is a plugin called Metrillo Analytics for WooCommerce. This is another third party way to analyze your E Commerce, and it contains many of the features mentioned throughout the other plugins contained in this list of analytics and report plugins for WordPress. You can easily integrate it into your WooCommerce shop in only 5 minutes, and it gives you a real-time dashboard of how your WooCommerce store is doing.
This helps you easily understand the customer lifetime value, successful orders, cart abandonment, conversion rates by devices, new customers, customer data, and more.
If if you run marketing campaigns for your WooCommerce shop, Metrilo automatically reports on the campaign performance. For example, you can see your conversion rate, AOV, revenue, and the source of where all of these sales are coming from. This is incredibly helpful if you're trying to understand which marketing campaigns are the most successful, allowing you to replicate them leading to more revenue.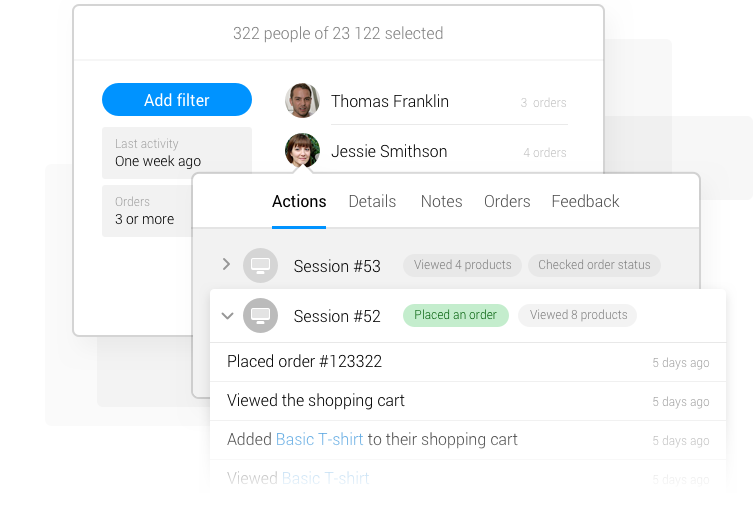 We really like this plugin because it comes with a ton of easy to use revenue breakdowns. You can also set up your own, but if you're just getting started you can Understand how coupons impact sales, track revenue from social channels, discuss referrals, understand the city or country where your customers are located, and view sales by device.
You can also break things down on a product level, understanding how many times a single product is purchased, how many times it is abandoned, and even how many times it is viewed. This helps you understand the revenue that is bringing to your shop, helping you become more profitable.
This is another platform that is based in the cloud, which is incredibly helpful if you're trying to manage your WooCommerce shop analytics and reports online Or on the go.
Conclusion
This post discussed the 10 leading WooCommerce reports and analytics plugins out there. You can use these tools to collect actionable data from which you can gleam insights about the performance of your store. Breaking the data down even more helps you quickly calculate total revenue, conversion re, cart abandonment, and more. Visualizing the data is incredibly helpful for those who need to get a quick understanding of the reports and metrics from their shop.
If you're looking for a WooCommerce reports or analytics plugin, we definitely recommend checking out at least a few from the list above. We've used many , and have had great experiences with each. If you have any questions, or would like to add another plugin to this list, leave a comment below.